29.10.2012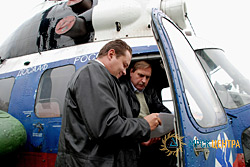 The Commission, composed of specialists of IDGC of Centre — Kurskenergo division and the RTN Office in the Kursk region, had a helicopter flyover of 35-110 kV overhead lines (Conductors). The purpose of the flyover was to obtain information about the state of ROWs along power lines following their clearing and expansion.
During the overflights they examined 35-110 kV power lines "Ore — Branching — Mikhailovka", "South — KNPP", "South — Lgov", "KNPP — Lgov", "Lgov — Konyshevka", and "Ore — Khomutovka".
The Commission members visited a total of 300 km of power lines in the west and north of the Kursk region, and found that the electrical equipment was in good condition, with no defects affecting safe and stable operation of power facilities. In total, since the beginning of this year Kursk power engineers have cleared off trees and shrubs ROWs along 0.4-110 kV overhead lines in the area of about 830 hectares. Before the end of the year it is planned to clear about 30 hectares extra.
Reporting information to the results of the flyover the Commission supported with photographic evidence from aboard the helicopter, characterizing the state of each line.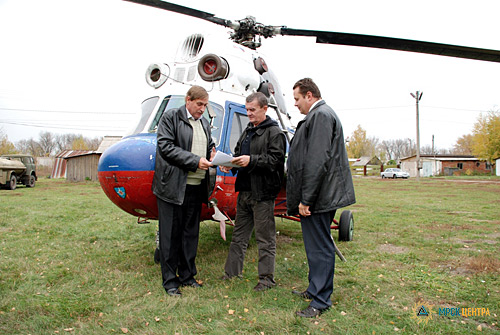 According to Deputy Chief Engineer — Head of high-voltage grid Office of Kurskenergo Sergey Skornyakov, helicopter overflights will improve the efficiency of surveying many kilometers of power lines.