24.10.2012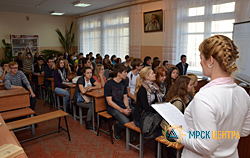 Staff of IDGC of Centre — Tambovenergo division took part in a seminar for students dedicated to the 165th anniversary of the birth of the inventor of the incandescent lamp A.N. Lodygin. The event was held at the Institute of Mathematics, Physics and Informatics of Tambov State University named after G.R. Derzhavin was the second event to mark the good round figure.
According to Associate Professor, Department of General Physics of Institute of Mathematics, Physics and Informatics of TSU named after G.R. Derzhavin Alexander Sterelyukhin, the idea of ​​this workshop came to him after attending the III Youth Gathering of Tambov power engineers, where the subject was given special attention.
Staff of IDGC of Centre — Tambovenergo division prepared for university students a presentation on the contribution of the Tambov power engineers in the honorary business of preservation of the memory of A.N. Lodygin in the Tambov land.
During the workshop, Alexander Sterelyukhin within a scientific and journalistic report described the scientific community that existed in the XIX century. The principle of the electric bulb was known before A. Lodygin. But it was he who awakened great interest in the construction of light sources, acting on the principle of incandescent conductor current. Having constructed a better lamp than other inventors, Lodygin first turned it out of the physical device in a practical way of lighting, brought it out of a physics study and laboratory to the street and showed great possibilities of its application for lighting.
A.N. Lodygin paved the way for the success of P.N. Yablochkov and undoubtedly had a strong influence on T.A. Edison and D. Swann, who, using the principle of the incandescent lamp, proven by works of A.N. Lodygin, turned this device in consumer goods.
For the past three years much has been done in this regard. In particular, a granite slab in the Small Homeland of the scientist in Stenshino was installed, a park of power engineers was laid near the monument to the nature, publications were issued and television programs were released in the federal and regional media, ethnographic expeditions were made, cooperation was set with stakeholders in the United States who are concerned about preserving the memory of Lodygina among the Russian diaspora.
"The task of patriotic, civic, spiritual and moral education is relevant at all times, and the foundation of this education is laid at an early age. The historical example of a specific individual is essential, such as our fellow countryman — Alexander Lodygin. It is important that power engineers remember and honour the great Russian scientist, known primarily only in narrow academic circles. I hope that our cooperation in this activity will continue," — stressed Alexander Sterelyukhin.