23.10.2012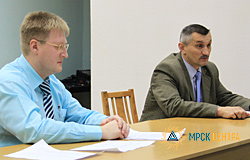 IDGC of Centre — Kostromaenergo division held a round table with representatives of municipal authorities of the region. The parties discussed the issues of cooperation of power engineers and municipal authorities in the event of disturbances in power supply in the autumn-winter period.
Experts of Kostromaenergo told the preset about the causes and remedies of technological failures, order of operations, time of power supply restoration, and the need for cooperation with municipal services.
When winter comes technological disturbances in the power supply are connected primarily to natural weather conditions. Wet snow sticks to the wire, freezing rain, strong wind, low temperatures every winter can lead to unplanned power outages for consumers and the need for rapid elimination of technological violations by first responding mobile crews and operators of the energy company.
Participants of the meeting talked about the fact that during periods of mass disturbances at power facilities IDGC of Centre — Kostromaenergo division sets an operational headquarters, which oversees the restoration work progress, develops a plan of required measures to minimize the consequences of the interruption and to prevent its development.
Information and technological exchange is organized between operational and supervisory units of the branch and local authorities. In Distribution Zones temporary information centres begin to function. In addition, for population there is the around the clock Direct Power Hot Line in operation at 8-800-50-50-115 (toll-free), where you can get information on the restoration work progress and the time it is completed.
"Power engineers do everything to eliminate faults at power facilities as soon as possible — says Chief of electric modes Service of Grid Control Centre of the branch Roman Sarychev. — In these difficult circumstances, understanding and support from the authorities is very important. During the discussion methods of interaction power engineers and local authorities are worked out, many organizational issues are resolved."