19.04.2011
On April, 19th 2011 Director General of IDGC Holding, OJSC Niсolay Schvets spoke on Meeting of Management Board of All-Russian Non-Governmental Organization of Small and Medium Business OPORA RUSSIA, which took place in Ministry of Economic Development.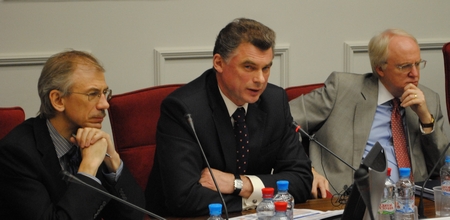 Speech of Head of IDGC Holding was devoted to realization of tasks on restriction of growth of tariffs on electric power relating to IDGC and influence of current situation with tariff formation on activity of small and medium business entities (SMB).
As Niсolay Schvets pointed out, IDGC Holding carried out serious work on adoption of balanced and better tariff decisions in constituent entities of Federation in frames of tariff campaign of this year.
At present formation of tariff for transmission of electric power in distribution grids is made according to conditions of long-term method of tariff formation, based on return on invested capital method (RAB-regulation). This process began in 2009 in eight "pilot" regions. At present 59 regions in responsibility area of IDGC Holding are already working on new model of tariff formation. Transfer to RAB-regulation of tariffs should provide investments flow to distribution electric grid complex, increase effectiveness of investment and operational activity, improve quality and reliability of electric power supply.
As Niсolay Schvets said, analysis of structure of growth of final tariff for electric power showed, that operational expenses in IDGC do not practically grow, because measures on reduction of operational expenses are taken in the last 2 years in IDGC Holding. Apart it there was pointed out fact that benefits on technological connection of facilities of small and medium business, set by Government Order of RF No. 334 dated April, 21st 2009, are compensated at the expense of tariffs for services of electric power transmission. Possibility of simplified connection to electric grids of small and medium business entities is paid through tariff for transmission by all consumers of electric power.
Niсolay Schvets named consolidation of distribution electric grid complex on the base of IDGC as optimal decision of tariff regulation problem. As experience of Yaroslavl' Region shows, acquisition by IDGC Holding of 100% of shares of JSC "Yaroslavl' City Grid" (the largest Territorial Grid Organization in region) lead to restraint of tariff growth for 1.2%.
Niсolay Schvets said that essential factor of growth of tariff load on small and medium business was destruction of construction "last mile". In case of cancellation of "last mile" tariffs for electric power can grow 21%.
In the end of his speech Head of IDGC Holding informed about development and directing to Federal Tariff Service of number of proposals on improvement of tariff regulation. He also thanked Management Board of OPORA RUSSIA for structural interaction and business relations in responsibility regions of IDGC/DGC.