28 June 2022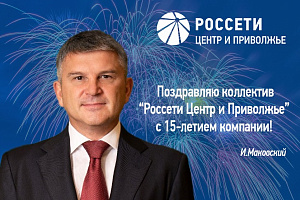 On 28 June 2022, Rosseti Centre and Volga region, PJSC turns 15 years old! The company is the main provider of services for transmission of electricity and connection to power grids in the Vladimir, Ivanovo, Kaluga, Kirov, Nizhny Novgorod, Ryazan, Tula regions, as well as in the Republic of Mari El and the Udmurt Republic.
Today Rosseti Centre and Volga region, PJSC is 21.5 thousand employees in 9 branches, the territory of responsibility of which is 408 thousand km with a population of 12.6 million people.
The large-scale grid facilities of the company include 294 thousand km of overhead and cable power lines, over 1.5 thousand 35-220 kV substations, about 70 thousand 6-35/0.4 kV transformer substations and 6-10 kV distribution points, with a total capacity of 46 thousand MVA.
On behalf of Igor Makovskiy, General Director of Rosseti Centre, PJSC - the managing organization of Rosseti Centre and Volga region, PJSC, festive events were held in all branches.
"Congratulations to the staff of Rosseti Centre and Volga region on another year of successful work! Professionalism and dedication to their work have always distinguished the power engineers, being the key to reliable and high-quality energy supply to regional consumers, the development of new areas of activity, and the successful implementation of innovative technologies. I wish the company's employees high production results, further success and achievements," the head of the energy companies emphasized.