12 June 2022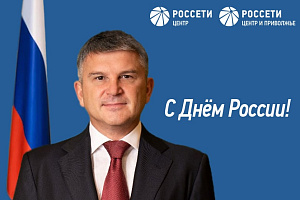 Dear friends! I congratulate you on Russia Day!
On 12 June, we celebrate a holiday that is a symbol of patriotism and unity of Russians.
The Russian Federation is a powerful country with a unique history and a heroic past. We are proud of our traditions, and it is on us, the citizens of modern Russia, that the preservation and enhancement of the industrial, cultural and spiritual heritage accumulated by our people depends.
We are strong when we are together, when we believe in our common future!
On Russia Day, with all my heart I wish you a peaceful sky, labour victories, family warmth and prosperity, success in all your endeavours for the benefit of our Fatherland!
Igor Makovskiy, General Director of Rosseti Centre - the managing organization of Rosseti Centre and Volga region