16 May 2022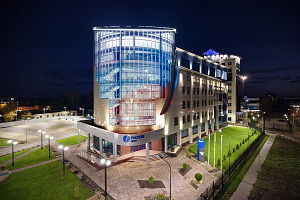 The branch of Rosseti Centre, PJSC - Kurskenergo is one of the largest power grid complexes in the Central Federal District with a strong technical and intellectual potential, reliably providing the economy and social sphere of the Kursk region with energy resources.
The Kursk regional energy department "Kurskenergo" was established on 13 May 1958, on the basis of Order of the Council of Ministers of the RSFSR No. 1816. Prior to this, the region did not have a single plan for the electrification of industry, agriculture and the utility sector, and the entire staff of the enterprise consisted of two dozen people and several electrical services.
Kurskenergo is celebrating its 64th birthday with worthy results. The power engineers of the enterprise serve more than 34,400 km of power lines, 10,449 power transformers, 9,834 distribution points and transformer substations.
Igor Makovskiy, General Director of Rosseti Centre, PJSC - the managing organization of Rosseti Centre and Volga region, PJSC, congratulated the employees of the Kursk branch on the holiday date: "On this festive day, I want to thank you for your daily responsibility in performing work tasks, for selfless work, loyalty to your work and professionalism. I wish everyone confidence in the future and a vision of their perspective, inspiration and the opportunity to change something for the better. Good health, family well-being, interesting and fruitful work".