30 July 2021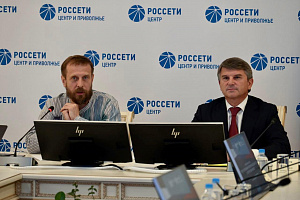 The event was also attended by the head of the EnergyNet working group of the National Technology Initiative Oleg Grinko and representatives of the T-systema company, which organized the educational course.
The training has become a part of a large-scale project to create the first ontological model of the Distribution Zone in the service area of the Companies, which is being implemented on the basis of the Yasnogorsky Distribution Zone of the Tulenergo branch.
As part of the preparation of final qualification works, algorithms for operation of equipment in the Distribution Zone were analyzed and structured, models of interaction between personnel of production departments in various situations were developed.
"The developed ontological model will allow in the future to minimize the human factor when making decisions at the level of the Distribution Zone. This is one of the key stages in the transition to a fully automated system of operational and technological management of the power grid complex. The implementation of the project will help increase the reliability of power supply to residents of settlements of the Tula region and the speed of response to technological violations," stressed Igor Makovskiy, General Director of Rosseti Centre and Rosseti Center and Volga Region.