16 July 2021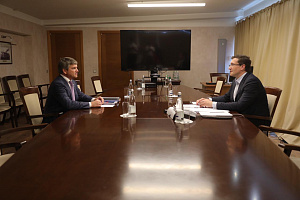 On 16 July 2021, Governor of the Nizhny Novgorod Region Gleb Nikitin and General Director of Rosseti Centre - the managing organization of Rosseti Center and Volga Region Igor Makovskiy held a working meeting. During the meeting, in particular, the preparation of power grid facilities for the 800th anniversary of Nizhny Novgorod was discussed.
"The company's activities in our territory are of great importance. The Nizhny Novgorod region is an industrial one, and the development of enterprises depends significantly on the tariff policy. The work to improve the efficiency of the company, which is being carried out now, makes it possible to control these processes," stressed Gleb Nikitin.
"Much depends on the power grid infrastructure during the improvement and preparation for the anniversary. To celebrate the anniversary of the city, Nizhnovenergo's specialists are implementing the "Clear Sky" program. Work is underway to repair outdoor lighting networks, repair and reconstruct the distribution grid," added Governor of the Nizhny Novgorod Region.
According to Igor Makovskiy, in preparation for the celebration of the 800th anniversary of Nizhny Novgorod, 64 events were planned at 424 facilities of the city's power grid complex. In total, almost 1,500 power line poles have been replaced, 88.5 km of overhead and cable lines have been constructed and reconstructed, and 541 new lighting fixtures have been installed. 177 transformer substations have been constructed and reconstructed.
Also, employees of the Nizhnovenergo branch performed grid connection of new urban infrastructure facilities. Reliable power supply provided places for mass recreation of townspeople in the "Switzerland" park, a light and music fountain on the Nizhne-Volzhskaya embankment, and historical structures of warehouses on Strelka.
"The employees of the energy company in the shortest possible time implemented a whole range of measures for the reconstruction and construction of power grid facilities in Nizhny Novgorod. The work was carried out in close cooperation with the regional administration in preparation for the 800th anniversary of the city. During the large-scale modernization of outdoor lighting, overhead and cable lines, transformer substations, all the wishes of residents and authorities were taken into account. This will have an unconditional positive effect on the development of a comfortable urban environment and preservation of the historical appearance of the capital of the Volga Region," stressed Igor Makovskiy.