30 January 2015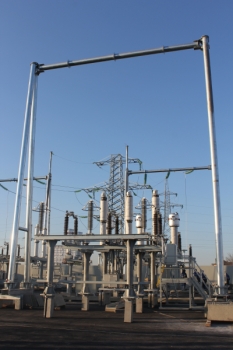 Power engineers of IDGC of Centre - Voronezhenergo division continue implementing projects aimed at improving the reliability and increasing the quality of power supply of Novousmansky district - one of the largest and fastest growing in the Voronezh region.
Among the largest of them is the reconstruction with changing the voltage to 110 kV of the substation "Usman-2" - the feeding centre of the villages of Babyakovo, Repnoye, Alexandrovka, Otradnoye and part of the village of Novaya Usman. At present, work is being completed on the second launch facility of the substation "Usman-2". In the short term, experts of Voronezhenergo are planning to install at this substation equipment of relay protection and automation and lay cables of power circuits of auxiliary circuits and secondary switching. The renewed energy facility will be called "Rainbow" - it is worth noting that the title was also given to the neighbourhood in which it is located. The commissioning of the upgraded power centre will create an opportunity for grid connection of new customers, including a new creamery, high-rise apartment complexes, and cottage settlements. The total cost of this investment project is estimated at 161.6 million rubles (excluding VAT).
Also currently in Novousmansky district the construction of an overhead power line of 10 kV with its length of 6.9 km from the 110/10 kV substation "Novousmansky" and laying of a cable line with its length of 3.5 km from substation 110/35/6 #21 "East" to pole #109 of conductor of 10 kV №7 is being completed. These power lines will provide electricity to the large suburban villages of Otradnoye and Repnoye that are centres of low-rise buildings in Novousmansky district.
In addition, in 2014 distribution networks, located in the communities of the district, were reconstructed: Semiluksky Vyselki, Volya, Shuberskoye.
The reconstruction of the substation "Rainbow", the construction of two new power lines will allow to remove load from the existing lines, reduce failures at power facilities of the district during the autumn-winter operation period, and ultimately improve the reliability and quality of electricity supply to consumers.
Much work is being done in terms of improving the quality of supplied electricity to consumers. Some of these requests are eliminated quickly, others require larger corrective measures that are included in the repair and investment program of the branch. Thus, to improve the quality of power supply of villagers of Novaya Usman, living on Podlesnaya street of the village of Novaya Usman, experts of Novousmansky Distribution Zone will install entries and switching devices in 0.4 kV switchgear of package transformer substation #100 of the substation Novousmanskaya and 4x50 self-supporting insulated wires in spans of poles #17-18 of conductor of 0.4 kV #2 to reconnect some consumers to this overhead power line.