26 December 2014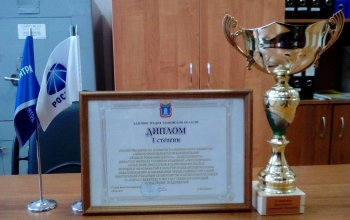 IDGC of Centre - Tambovenergo division for the second consecutive year has been recognized as the best organization of the Tambov region in terms of the organization of work in the field of civil defense, emergency management, fire safety and people safety on water bodies. This decision was taken by the Tambov region administration on the results of the activity of the regional territorial subsystem of the Unified State Emergency Management System. At the final methodological and training gathering, led by Deputy Head of the Tambov region administration Alexander Sazonov, it was noted that following the results of 2014 the branch demonstrated strong performance in the implementation of the plan of the main activities in the field of civil defense and emergencies.
During the awards ceremony, which took place in the framework of the gathering in the Great Hall of the Tambov region administration, Tambovenergo's team was awarded a certificate of merit of the first degree and a challenge cup.
"Control bodies of Civil Defense and Emergencies in Tambovenergo operate smoothly and seamlessly. In many respects it is a credit to the team of the company - highly skilled, experienced professionals ready to work in emergency situations, able to solve the most complex issues in the field of emergency prevention and response," stressed Acting Head of General Directorate of EMERCOM of Russia in the Tambov region, Colonel Alexey Shulgin.
"The employees of the branch with a sense of responsibility throughout the year were successfully implementing the Plan of Actions in the field of civil defense and protection against emergencies. Tasks for preparing the employees of the branch in civil defense and protection from emergency situations in 2014 have been fully implemented," underlined Head of mobilization preparation and civil defense of IDGC of Centre - Tambovenergo division Alexander Martynenko.