14 July 2014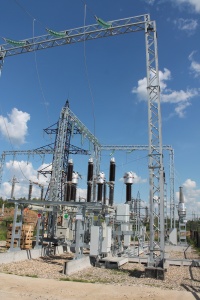 The first section of 110 kV buses was put into operation at the substation 110/35/10 kV "KPD" of IDGC of Centre - Kostromaenergo division. The launch of the new equipment took place as part of the reconstruction at the power facility.
During the modernization of the high-voltage equipment of the first section of buses at the substation "KPD" the power engineers installed four 110 kV disconnectors with motor drives of the main and earthing switches, replaced the outdated circuit of 110 kV isolating and short circuiting switches for a gas-insulated circuit breaker. New gas-insulated equipment was installed instead of oil transformers and voltage transformers, which is more durable, does not require constant maintenance and environmentally compliant. To increase the substation power, already in 2013, 16 MVA power transformers were replaced with 25 MVA ones.
The equipment is fully automated, all can be remotely controlled. Thus, for the first section of the buses new microprocessor protection was put into operation, a modern system of remote control was installed, high-speed communication channels were set with fiber-optic lines (FOCL). Data on various indicators of the state of the equipment are transferred with them to the control centre of Volgorechensky Distribution Zone and the Grid Control Centre of Kostromaenergo.
Now the power engineers have begun replacing equipment in the second section of buses. The Kostroma branch of IDGC of Centre plans to complete the reconstruction by the end of 2014.