8 July 2014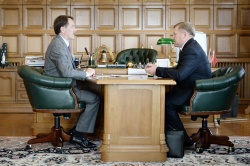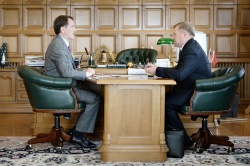 Prospective development of the power grid of the Voronezh region was the main topic of the meeting of Deputy General Director of IDGC of Centre - Voronezhenergo division director Ivan Kleymenov with Acting Governor of the Voronezh Region Alexey Gordeev.
The parties, in particular, discussed ways to address problems of power supply of the regional centre. Ivan Kleymenov presented offers of IDGC of Centre to Head of the region on accelerated development of electric power in Voronezh. The meeting also discussed the issue of increasing investment opportunities for the development of the electricity sector of the Voronezh region.
Besides, Head of Voronezhenergo informed Alexey Gordeev on the significant work performed by the branch in 2013 aimed at improving the reliability of electrical equipment, and reported to Head of the region on the grid connection progress of socially significant facilities. This is a water intake in Borisoglebsk, treatment facilities in Novousmansky district, sports and recreation facilities in Verkhnemamonsky, Ramonsky, Ternovsky, Ertilsky districts – a total of 25 sites.
During the meeting it was noted that the Voronezh region is the only one in the Central Federal District, where there is an increase in electricity consumption: in 2013 it was 1.2%. This is due to the improvement of the welfare of inhabitants of the region and high rates of housing construction.