4 February 2014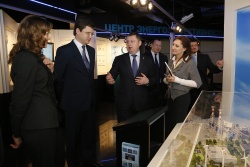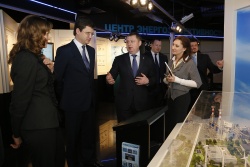 In the Grid Control Centre Deputy General Director of IDGC of Centre – Belgorodenergo division director Roman Tkachenko demonstrated to Alexander Novak capabilities to efficiently manage the data complex with which operators monitor the status of electrical networks of the region. The Minister was shown functional features of modern automated systems that allow in real-time to monitor the status of each line and substation, see electric energy and power flow, meter power consumption, perform remote reading of metering devices and control equipment. Alexander Novak praised the work of the video security and surveillance technology, providing round the clock monitoring of the security of power facilities of the company.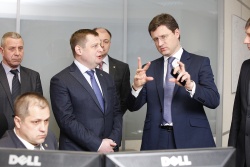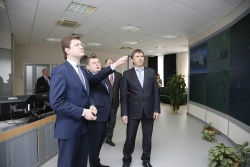 In the Customer Service Centre, which serves as a single platform to address all issues relating to electricity, water and heating supply, Alexander Novak asked its daily attendance and algorithm of interaction with customers. In the front office of Belgorodenergo the company's specialists provided the Minister of Energy with details about how the grid connection in the Belgorod region is performed, and then the Minister of Energy discussed with the branch's management the terms and ways to optimize the procedure.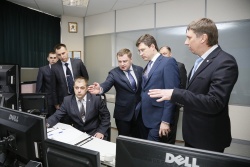 The last place of the working visit was the Energy Efficiency Centre, which was opened at Belgorodenergo in 2011 to promote the topic of energy conservation and energy efficiency of the region's population. Here, in an accessible and understandable form all existing today information is presented on ways to save energy and patterns of energy saving technologies and materials. The Minister of Energy drew attention to the need for practical application of these technologies in consumer and industrial applications.
Following the visit Alexander Novak noted the high level of automation of production processes in the company and a commitment to implement the latest technologies to help improve the reliability and efficiency of the grid complex of the region.
Alexander Novak came to the Belgorod region to participate in a meeting of the Presidium of the Council under President of the Russian Federation chaired by Prime Minister Dmitry Medvedev. The Council is devoted to economic modernization and innovative development of Russia.