22 January 2014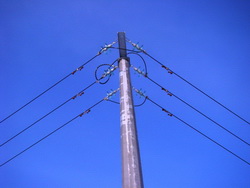 In 2014 IDGC of Centre continues to implement another innovative project in the service area of the Lipetsk branch. As part of further modernization and development of distribution networks in the Lipetsk region, which are in the service area of Lipetskenergo, a power line will be constructed using the developed in the implementation of innovative programs anchor metal multifaceted poles of 0.4 kV. The power engineers plan to start its practical implementation in March 2014.
Construction of new 1.75 km in length power lines of 0.4 kV using domestic metal multifaceted poles of type UM-04 will reinforce the power supply circuit of the Lipetsk region. Now experts of Lipetskenergo are performing the final work for optimization of a typified project to construct power lines in the region.
The effectiveness of this solution has already been confirmed by similar experience of Tver power engineers. The first two experimental 10 kV power lines with 28 metal multifaceted poles of type SM80-6 and SM80-25 appeared in the Tver branch of IDGC of Centre last year. During the period of «ice» rains the experimental lines had no power supply interruption.
Absence of emergencies on these lines is due to several advantages of multifaceted poles. Among them it is high reliability, which includes failure-free performance, durability and maintainability. Durability of multifaceted poles is on average 50 years, and reinforced concrete — 30. Such lines are not inherent of destruction typical of reinforced concrete and steel lattice poles, and therefore, they almost do not need to be repaired.
Among the advantages of multifaceted poles is also their adaptability to any territory and climate, high performance, ease and speed of installation. Multifaceted poles are also distinguished with little ROW, environmental safety, ease disposal, and aesthetics. The major advantage of multifaceted poles is the cost-effectiveness, which is due to lower operational costs, transportation, construction work and a longer service life.
Implementation of new power equipment and materials that meet the modern requirements of reliability, safety and efficiency, is one of the priorities of the technical policy of the company.
«The project implementation to construct lines using multifaceted poles will be a significant contribution to enhancing reliability of energy supply to consumers, as well as demonstrate the prospects of the activities in solving complex problems by reducing wear of grids,» stressed Deputy Director for Technical Issues — Chief Engineer of Lipetskenergo Alexander Kornilov.