17 January 2014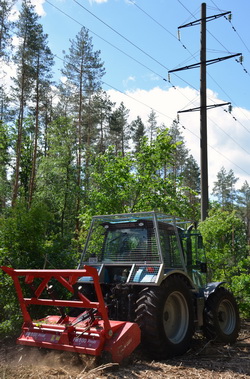 Tambovenergo summed up the implementation of activities in 2013 to clear and extend ROWs along overhead lines.
During this period the branch's specialists cleared 406 hectares of ROWs, which is 12% higher than the targets (361 hectares). This result was achieved largely due to the use of specialized equipment.
The plan to expand the ROWs in the amount of 183 hectares was fully implemented. By the end of 2013 Tambov power engineers increased the width of exclusion zones of 45 power lines clearing them from trees and shrubs and disposed of 100% forest residues.
All the activities to clear and extend ROWs along power lines were performed in strict compliance with the regulations and the requirements of the legislation.
«Clearing of exclusion zones of overhead power lines from trees and shrubs is performed by power engineers annually in preparation for the autumn-winter operation period, when due to adverse weather conditions the likelihood of technological disruptions of power facilities significantly increases due to touching wires of branches and falling trees growing near electrical installations and power lines. This work is a must area of repair and maintenance activities, one of the most important conditions to ensure reliable power supply to consumers,» stressed Deputy Director for Technical Issues — Chief Engineer of IDGC of Centre — Tambovenergo division Igor Polyakov.