23 December 2013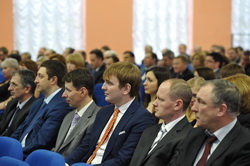 IDGC of Centre held a solemn meeting devoted to the preliminary results of operations for 2013. The initiator of the event was the primary trade union organization of the company.
IDGC of Centre's General Director Oleg Isaev opened the meeting. He talked about the main results of production and economic activity in the departing year and outlined the key priorities for 2014.
Speaking further Advisor to General Director, Chairman of the primary trade union organization of IDGC of Centre Victor Ablezgov recalled what was done in 2013 in the part of the Program of support and development of the company's personnel potential, provision of a decent level of social protection of its employees. He also read congratulation to the team of IDGC of Centre on the Power Engineers' Day from the All-Russian power industry employers' association.
The solemn assembly ended with an awarding ceremony of IDGC of Centre's workers, distinguished in 2013. In total 50 employees were given various industry and corporate awards.