1 August 2013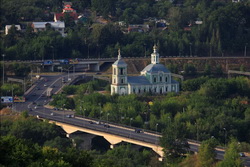 In September 2013, the Hero City of Smolensk will celebrate the 1150th anniversary of its founding. In accordance with the Decree of the President of the Russian Federation a long-term target program «Preparation for the celebration of the 1150th anniversary of the city of Smolensk for 2010-2013» was developed. In its implementation IDGC of Centre's power engineers undertook to connect to networks of Smolenskenergo 18 large urban social institutions that have been built or renovated to the holiday date. Given the particular importance of the upcoming event, IDGC of Centre included the grid connection project into priority ones.
In accordance with the program of preparation for the anniversary of the city IDGC of Centre — Smolenskenergo division has performed a number of construction and installation activities. In the historical part of Smolensk a new substation DS-7 was constructed, which allowed to improve the reliability of power supply of the Smolensk State University, Regional Administration and Administration of the regional centre.
To provide electricity to social facilities Smolensk power engineers of IDGC of Centre installed block-modular package transformer substations. Energy facilities of this type have already received high praise from the Regional Administration for rapid installation, aesthetic appearance and «vandal-proof».
In addition, the grid connection of a city sports and recreation complex, the State Archive of the Smolensk region of 1.5 million storage items, a trauma centre, and an oncology centre is important to inhabitants of Smolensk. For the new school 2013-2014 year the power engineers connected a sports complex and the city's pre-gymnasium for gifted children to their networks , which in September will open its doors to 240 children.
Now the branch continues to connect facilities in an active way. In the near future the work will be completed on connecting an equestrian school, zoo, a tram and trolley parking lot and the children's camp «Eaglet». The power engineers will also perform work on the removal of networks from the embankment of the Dnieper.