18 September 2012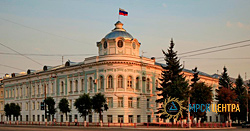 In Tver a working meeting of General Director of IDGC of Centre Dmitry Gudzhoyan with Governor of the Tver region Andrey Shevelev took place.
The parties discussed issues of the region's preparation for the autumn-winter period, the prospects for further development of the electric grid in the new stage of reforming and consolidation of transmission and distribution grid companies on the basis of FGC UES.
Formation of a single scheme of grid operation, clear interaction of structures provides quick response to abnormal situations during low temperatures. For this purpose, joint exercises of branches of IDGC of Centre with the regional emergencies department of Russia, regional authorities, structural units of FGC UES are conducted.
The meeting examined the financial and physical performance indicators of the maintenance and investment programs of IDGC of Centre — Tverenergo division. Special attention was paid to the discussion of issues on expansion and clearing of ROWs, cooperation with the Regional Ministry of Forestry. Tverenergo has been active in this area.
The Tver region — one of the most wooded and swampy areas in the Central Federal District. The branch's priority — to purchase upscale modern machinery needed in the territorial conditions of the region, attracting contractors, completion of acquisition of emergency reserve. Taking such important measures will allow to perform maintenance and repair, reduce the failure elimination time, as well as provide reliable control over the operation of power facilities during the autumn-winter peak loads.