8 June 2012
On June 7 a working meeting of Yaroslavl General Director of IDGC of Centre Dmitri Gudzhoyan and Governor of the Yaroslavl region Sergey Yastrebov was held.
During the meeting the parties touched upon the long-term projects of the investment program of Yarenergo. In particular, the power engineers of the branch will construct on the territory of the Yaroslavl region new feeding centers: 110/10/6 kV substation "Novoselki" and 110/10 kV "CCGT Unit". We will continue the modernization of existing power facilities with modern innovation technologies. A separate item of the discussion was the definition of tasks to prepare for the autumn-winter operation period of 2012-2013.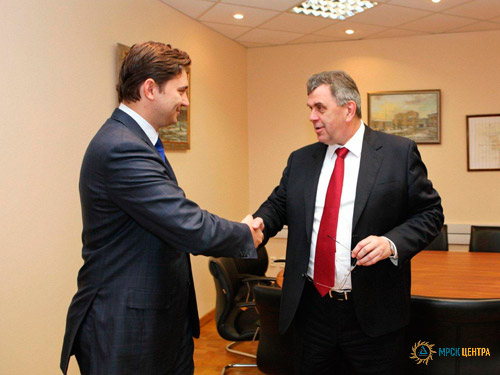 The themes of the discussion were the further implementation of the Cooperation Agreement, which the parties entered into in June last year, as well as current issues of long-term development of the region's electric grid. The Cooperation Agreement between the Power Company and regional authorities will be in effect until December 31, 2015. Its main points are to ensure the reliability of electricity supply to Yaroslavl consumers, the development of an integrated small generation and consolidation of electric grid assets. Interim results and upcoming plans of joint work in these areas were the subject of discussion of the meeting.
Dmitry Gudzhoyan also visited OJSC "Yargorelektroset" (100% subsidiary of IDGC of Centre) and held a meeting with the company's management. At the meeting the results of the company over the past year, the tasks for the current year, as well as preparation for the autumn-winter operation period was discussed.