4 June 2012
The contests were judged under the chairmanship of Director of Information Policy and Communications of IDGC Holding Alexander Uzhanov. Totally 10 teams took part in the games from practically all operating companies of IDGC Holding.
IDGC of Centre had its team for the first time. In a very short period, starting from March, the team was able to prepare and perform well. The performance in the ring of humour was preceded by a tight and intense rehearsal schedule. In the hall the team of IDGC of Centre was actively supported by a group of fans, which was recognized as the best support group.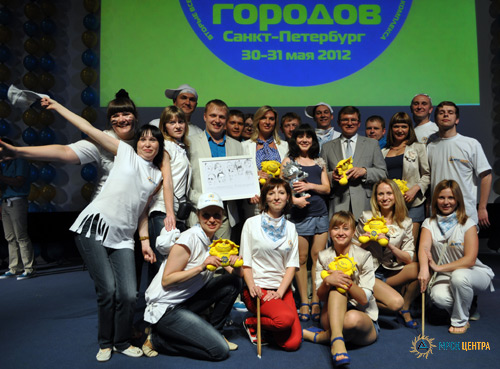 The program of the games of the Club for the Lightheaded and Quick-witted Power Engineers included three contests: the greeting on the topic "Street of turned off lamps", music video "Energy Show" and homework "Around the World in 366 days". Each performance took from 5 to 15 minutes. Opening the topic of the games "Big City Lights" the participants demonstrated high artistry, team integration and sparkling sense of humour. With fine irony and professional knowledge of production issues they reflected the features of labor of electric grid engineers, found the most unexpected and funny situations in their daily work.
President of the jury Alexander Uzhanov considered the joke of the team of IDGC of Centre as the most successful joke of the second All-Russian KVN games of Power Engineers: "A real man needs to do three things in life - to build a house, raise a son and start working at IDGC Holding to plant a tree!".
The KVNE Games of the distribution grid complex became a bright event in the lives of young people. "For the second year the games of the Club for the Lightheaded and Quick-witted Power Engineers help unite the labour collectives, form a single corporate culture of employees of IDGC Holding, involve young professionals in active production and socio-cultural life of the companies", - stressed Alexander Uzhanov.