21 May 2012
In the city of Kostroma a new avenue of Friendship appeared. It was laid by power engineers of IDGC of Centre together with the General Directorate of EMERCOM of Russia in the Kostroma region. New trees appeared through the implementation of the All-Russian action of IDGC Holding "Save the energy of the forest".
The place for the future avenue - near the Noble Assembly, an architectural monument of Kostroma, was not chosen by chance. "This is a contribution of power engineers of IDGC of Centre in the restoration of the historic image of Kostroma, - stresses Evgeny Smirnov, Chief Engineer of IDGC of Centre – Kostromaenergo division. - Our city has long been famous for its cleanliness and plenty of green space. The power engineers decided to dedicate this avenue to the 400th anniversary of the Romanov dynasty. We are pleased that the idea of the action "Save the energy of the forest", organized by IDGC Holding, was also supported by Kostroma rescuers".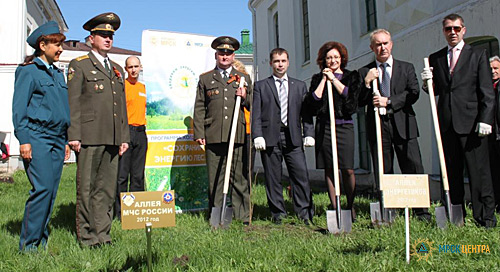 It is worth noting that the interaction of power engineers of Kostromaenergo and the Regional EMERCOM has always been distinguished with high level of professionalism and mutual assistance, especially in the liquidation of disturbances. Every year joint trainings and exercises are held in Kostroma, the inter-agency headquarters operate to ensure the security of power supply, a cooperation agreement was concluded that provides for the timely exchange of information, and if necessary assistance – with machinery and equipment, emergency reserve and personnel among the professionals.
The new avenue of Friendship has five young ash trees so far, but next year it will have new green trees: all the participants of this noble action unanimously agreed to do so.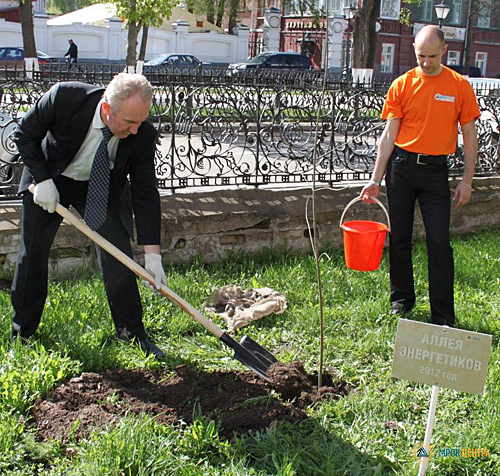 The same day employees of IDGC of Centre - Kostromaenergo division planted over 200 spirea shrubs in the park at the Regional Philharmonic, greened up the area near the substation "East" and planted 1300 seedlings of spruce, pine, birch, larch, rowan and ash in district centers of the Kostroma region. It is twice more than it was planted last year. Students of the Kostroma Power Engineering College named after F.V. Chizhov also took part in the tree planting.
Director of this College Tatiana Andriyanova stresses: "By participating in the action "Save the energy of the forest", our students were able to feel that corporate spirit, which is present in the Company. And it is, strictly speaking, those who after two years will join the labour collective of IDGC of Centre".