24.08.2017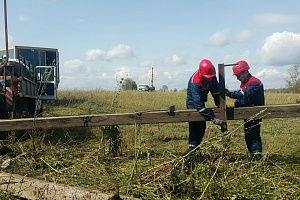 On 23 August, a storm warning was announced throughout the territory of the Lipetsk region. A sharp deterioration in weather conditions led to a number of technological violations in the grids of IDGC of Centre – Lipetskenergo division. The reasons for tearing of wires and breaking of poles are a strong squall wind with gusts up to 23 m/s.
Zadonsky, Khlevensky, Dankovsky and Lipetsky districts were partially de-energized. The most affected by the disaster was the village of Kamyshevka in Zadonsky district. Lipetskenergo's power engineers immediately started emergency recovery work. At present, 13 crews are involved in the liquidation of the consequences of bad weather, consisting of 33 people and 13 vehicles. First of all, work is being carried out to connect socially significant facilities and water wells, including using reserve power supply sources. The work is also continuing on 2 lines of 6-10 kV located in Zadonsky district. If necessary, the power engineers are ready to attract additional forces from other districts of the Lipetsk region and resources of contracting organizations.
For the period of elimination of technological violations, residents should take care and personal safety measures when they are in the protected zone of power lines and transformer substations. The power engineers remind, if a wire lying on the ground is detected, it is forbidden to approach it closer than 10 metres!
More detailed information on the progress of the restoration work can be obtained by calling the 24-hour direct line of power engineers at 8-800-50-50-115. The call is toll-free.