22.08.2017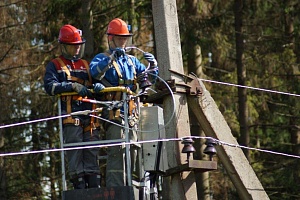 IDGC of Centre - Smolenskenergo division is carrying out large-scale preparation for the autumn-winter period of 2017-2018. In order to ensure reliable operation of the power grid complex of the branch, a whole range of activities is being implemented. One of the indicators of readiness for the autumn-winter period is the implementation of the repair program, because the guarantee of failure-free operation, reliable operation of power equipment and uninterrupted power supply to consumers in autumn-winter maximum loads in the opinion of power engineers is the quality repair of equipment in the summer.
The planned amount of financing of the repair program of IDGC of Centre - Smolenskenergo division in 2017 is 188.92 million rubles. Over the past 6 months, the energy company has already repaired 1,090.25 km of power lines of all voltage classes and 372 transformer substations of 6-10/0.4 kV. Work to clear ROWs from tree and shrub vegetation was carried out in an area of ​​574.04 hectares, as well as the power company expanded ROWs of 6-110 kV overhead lines in the volume of 165.5 hectares. Total costs for the past 7 months amounted to 86.23 million rubles. A complex repair of the substation 35/10kV "Turki" was performed.
"Implementation of the repair program of the branch is aimed at ensuring the operability of the lines and substations, trouble-free passage of the autumn-winter period and the overall increase in the reliability of the power grid complex in the region. When carrying out the planned work at power facilities, Smolensk power engineers of IDGC of the Centre use modern technologies and materials, which increase the service life of the equipment and reduce the cost of planned repairs. More than 61% of Smolenskenergo's repair program will be implemented by own forces (with the help of its own personnel, without involvement of contractors), which will reduce operating costs and maintain planned physical volumes of repairs," commented Oleg Shirokov, Deputy Chief Engineer for production assets management and development of Smolenskenergo.