21.08.2017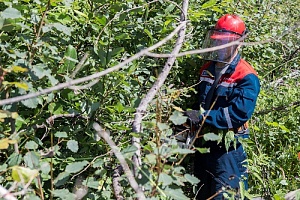 Several letters of appreciation in the address of power engineers came to IDGC of Centre – Tverenergo division, signed by the first deputy head of Ostashkovsky district Alexander Denisov. Municipal authorities are grateful to emergency repair crews of IDGC of Centre for excellence and professionalism in the elimination of interruptions in the power supply system caused by a natural disaster on 2-3 August.
Emergency and recovery crews of Ostashkovsky, Bologovsky and Sandovsky Distribution Zones of IDGC of Centre – Tverenergo division, Suvorovsky, Arsenevsky, Pavlovsky Distribution Zones of IDGC of Centre and Volga Region - Tulenergo, as well as crews from Ostrovsky, Galichsky, Sudislavsky, Chukhlomsky and Soligalichsky Distribution Zones of IDGC of Centre – Kostromaenergo division were engaged in the liquidation of consequences of the strongest hurricane in the power system of Ostashkovsky district, which struck the north-west of the Tver region last week.
Restoration of grids of all voltage classes was conducted around the clock. "In order to return electricity to customers, specialists used specialized vehicles and special tools, since most serious faults were in remote, swampy areas. Often, the staff had to walk hundreds of meters along with the chest in the water to get to the rubble of trees that had collapsed on the power line from outside the ROW," said Maxim Lobkov, the head of the distribution grid office of IDGC of Centre – Tverenergo division.
Please, be reminded that in total, about two hundred crews of power engineers or more than a thousand specialists of IDGC of Centre and IDGC of Centre and Volga Region participated in the emergency recovery work in the affected municipalities of the Tver region. Thanks to the well-coordinated actions of the company's personnel, it was possible to avoid serious consequences of the lack of power supply not only in Ostashkovsky, but also in other districts of the region.
Currently, the work of power engineers in the Upper Volga Region continues. The company's management decided to keep some crews sent from other branches in order to carry out the grid strengthening measures necessary to minimize power outages in case of repeated abnormal weather events.