12.04.2017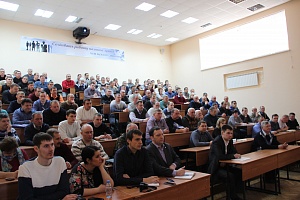 IDGC of Centre – Orelenergo division held a training seminar for masters of maintenance of distribution networks, masters of core services and engineers for labour protection of district units. About 200 employees of the branch took part in the training, the theme of which was the development of management decisions to improve work in the area of ​​preventing injuries, accidents, fires at Orelenergo's facilities.
Participants of the seminar discussed methods and basic approaches to performance of work at energy equipment, issues of organizational, technical and individual preparation for the performance, the implementation of rules for the safe elimination of technological violations at power grid facilities. They were demonstrated a video film about the conduct of briefings and inspections in accordance with the guidance of the "Three BEFOREs" adopted in IDGC of the Centre, performed before the crew's departure to the work site.
Particular attention was paid to compliance with safety requirements when working at height, the order of registration of work-permits in accordance with the rules for labour protection in the operation of electrical installations, as well as the choice of protection devices when measuring the resistance of the loop "phase-zero".
The educational seminar "Master's Day" for masters of Distribution Zones is held quarterly in Orelenergo. "Such meetings make it possible to eliminate shortcomings in the organization of important technical and organizational arrangements, qualitatively work out the causes of abnormal situations at work, as well as additions to regulations and other normative documentation on the line of activity," stressed Chief Engineer of IDGC of Centre – Orelenergo division Igor Kolubanov.