07.04.2017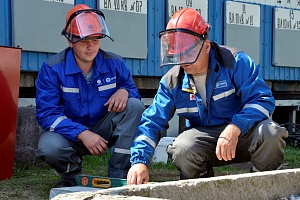 IDGC of Centre – Tambovenergo division is completing preparations for mass repair and preventive work, which will begin in May. On the eve of the mass work the departments of the enterprise have taken measures to prevent industrial injuries.
First of all, lists of potentially dangerous power facilities have been updated. Verification of the provision of crews and dispatching points with documents necessary for the safe organization and performance of work has been carried out. Technical training of administrative, technical, operating, operating and repair, repair and support personnel has been carried out, including theoretical and practical training using simulation exercises at training centres, with demonstrational work clearance. Operating and operating and repair personnel conducted practical training in the production of switching, preparation of workplaces and work clearance of crews for safe performance of work in electrical installations.
Employees of the branch undergo periodic medical examinations. Their workplaces are equipped with everything necessary for the safe conduct of work: protective equipment, appliances, tools and devices, first-aid kits, overalls.
Checks of readiness of crews of structural units for mass repair work are carried out by specially created commissions of structural subdivisions. The final assessment of readiness of structural units will be provided by the central commission of the branch, according to which the structural subdivisions of the branch will be issued with certificates of readiness.
"Every year we take the responsibility to prepare for the repair campaign with due attention, since the reliability of the functioning of electric grids in the Tambov region directly depends on its successful implementation," comments the progress of the check First Deputy Director - Chief Engineer of Tambovenergo Igor Polyakov. "The structural units are ready to implement all the plans and prepare the grid for the upcoming autumn-winter operation period."