13.03.2017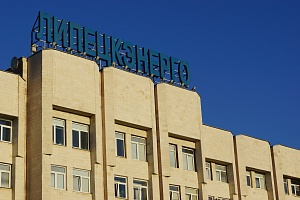 Power engineers of IDGC of Centre – Lipetskenergo division constantly monitor the preparation and passage of high water. This work is coordinated by a special commission led by First Deputy Director - Chief Engineer of Lipetskenergo Vladimir Tikhonov.
A list of facilities located in high-risk areas during the flood period has been drawn up. The branch pays special attention to the territories of Lipetsky, Dobrovsky, Dankovsky, Yeletsky and Chaplyginsky districts where the Voronezh, Don, Bystraya Sosna and Yagodnaya Ryasa rivers flood.
In the period of preparation for the flood, interaction with Roshydromet bodies, units of the Ministry of Emergency Situations of Russia, authorities for monitoring and analysis of melting of snow and breakup of ice in a river was ensured.
Specialists of Lipetskenergo conducted a survey of overhead power line transitions over rivers, analyzed the number and quality characteristics of special equipment necessary to prevent and promptly eliminate possible flooding of power grid facilities, organized activities to clean up substation premises, entrances to them, roofs and blind areas of buildings and structures from snow and ice and much others.
The measures regarding the safety of technological processes have also been carried out, in particular, an emergency reserve of materials and equipment has been completed, 25 repair crews have been prepared, 92 are reserve ones. 9 mobile crews consisting of 65 people and 26 vehicles are ready to promptly eliminate possible damage and emergency situations.
In all Distribution Zones, during the peak period of the flood, round-the-clock duty of responsible persons has been organized, there is periodic inspection of equipment, buildings, structures, sections of overhead power lines.
According to weather forecasters and specialists of the Ministry of Emergency Situations, the active phase of melting snow and breakup of ice in rivers in the Lipetsk region may occur from 13 to 20 March 2017. The risk of early flooding is created by a large amount of precipitation and plus temperatures.
"A set of mandatory and additional measures aimed at ensuring the reliable operation of Lipetskenergo's power facilities during the flood season of 2017 will allow to minimize the threat to the reliability of energy supply to consumers," commented First Deputy Director - Chief Engineer Vladimir Tikhonov.