06.12.2016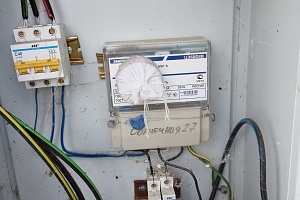 IDGC of Centre – Smolenskenergo division for 9 months of 2016 conducted 171 raids to detect and prevent non-metered electricity consumption. As a result, the power company identified large theft of electricity in the amount of 49 million rubles. Following the raids, the largest number of acts of non-metered electricity consumption was recorded among individuals - 475 acts in the amount of 2.6 million rubles. 131 facts of non-metered consumption were found among legal entities in the amount of 46.6 million rubles. The main types of violations were: interference with the meter operation, violation of integrity of seals installed by the grid company, use of magnets by consumers to distort electricity meter readings, acquisition and use by consumers of "modified" electricity meters, unauthorized connection of electrical devices to electricity meters.
In these raids twice a year almost all employees of Smolenskenergo are involved, helping the branch accurately to identify the volume of electricity transmitted to consumers, to take measures to reduce the level of electric power losses and record violations of operation of meters and even detect theft of electricity.
"The goal of such events is not only the suppression of theft of electricity, but also conducting outreach to consumers, clarifying actual meter readings and, as a consequence, reduction of electricity losses in the branch grids. Smolenskenergo constantly works to curb non-metered and non-contractual electricity consumption. Unauthorized connection to the power grid brings significant losses not only to the company's grid, but can cause technological disturbances in the energy system, which in turn violates interests of bona fide consumers. It is worth remembering that the unauthorized connection to electric grids, bypassing the procedures established by the law is a crime and punishable by bringing perpetrators to administrative and criminal responsibility," stressed the head of the electricity metering office Oleg Bonadysev.
Smolenskenergo's employees urge their customers to work together to deal with violators: if you know about facts of theft of electricity, you are kindly requested to report by the direct phone line of the power company at 8 800 50 50 115 (13-50). You can also leave a message on the company's website www.mrsk-1.ru or in customer service centres and offices of the branch.