02.12.2016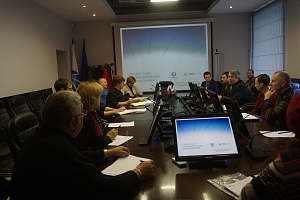 During the last in the current year Entrepreneur's Day at IDGC of Centre – Smolenskenergo division, held in late November 2016, representatives of small and medium-sized businesses and the power company discussed topical issues of connection to the power grid. The event was organized by Smolenskenergo with assistance of the public organization "OPORA RUSSIA", representatives of which were the most active participants of the meeting.
During the meeting with businessmen the branch "Smolenskenergo" was represented by Deputy Director for Sale and Development of Services Andrey Zhydenko, the head of the grid connection office Sergey Lapin, the head of the department for work with grid connection customers Evgeniy Vashenkov. On the part of the entrepreneurs there were more than a dozen representatives of small and medium-sized businesses from different districts of the Smolensk region and the city of Smolensk. The fourth meeting this year was the most attended and showed that such meetings are highly in demand by consumers.
During the meeting the heads of the energy company told the audience about the goals and objectives of Entrepreneur's Days, conducted by Smolenskenergo quarterly, about the features of connection to the branch grid, in detail advised the participants on the list of documents required to apply for the grid connection procedure. The branch experts also provided information on the manner and procedure of establishing the amount of payment for connection to power grids, told how a fee for grid connection is set for different categories of applicants, what are the benefits and the specific conditions under which the cost of connecting to the company's grid is reduced for entrepreneurs.
According to Deputy Director for Sale and Development of Services of the branch Andrey Zhydenko, the power company managed to clarify all details of the grid connection procedure to the representatives of the business and answer all their questions. The power engineers and businessmen had a constructive dialogue. "We are open to requests of our customers and ready to assist them on grid connection issues," stressed Andrey Zhydenko.
In summing up the representatives of small and medium-sized businesses noted the extensive, complete and competent answers to their questions, thanked the power engineering specialists for learning many useful nuances in matters of connection to the grid.