29.11.2016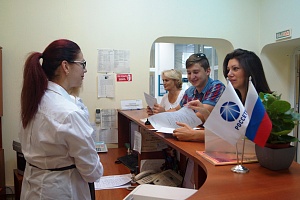 During the period from January to September this year more than 60 thousand residents of the Lipetsk region visited customer service offices of IDGC of Centre – Lipetskenergo division. This is 14% more than the same period last year, indicating that the growth trend of the number of customer requests has been maintained.
18,613 requests were taken by experts with personal visits of consumers to customer service offices, 826 - by mail, 40,335 - on the phone and 273 via the Internet – reception on the Company's website. In addition, specialists of the branch provided nearly 8 thousand consultations on activities of the grid company.
At the same time, most applications concerned to the provision of grid connection services, as well as value-added services.
In particular, during the reporting period "Lipetskenergo" received 3,569 requests from consumers for connection of power installations to the power company's grid. The number of concluded grid connection contracts was 2,853, of which 428 were entered into with legal entities and 2,425 - with individuals. Most of the contracts, namely 2,553 (89.5%) were concluded by the branch with preferential groups of consumers.
Improving the quality of services is one of the strategic directions of the work of the branch. The task of complex service of consumers of the company and maintaining uniform interaction standards is performed by the single Customer Service Centre and 18 points for work with customers operating in all Distribution Zones of "Lipetskenergo".
Today, the Company offers its customers a range of services. It is execution of work related to the competence of customers in the grid connection procedure implementation; design and construction of energy facilities; operational maintenance and repair of electrical networks and electrical equipment; energy audits and energy services; testing and diagnostics of electric equipment and others.
Services are sold by qualified personnel with vast experience, and in strict compliance with all technical standards and requirements. Experts of "Lipetskenergo" have all necessary permits and licenses, specialized equipment and materials that allow to perform work of any complexity.
ple at power facilities not in uniform, please, report via the STRAIGHT HOTLINE OF THE POWER COMPANY at 8-800-50- 50-115 or 13-50 from a landline phone.