25.11.2016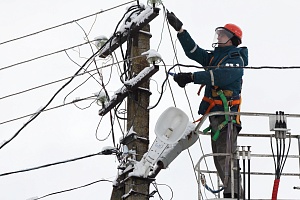 Kostroma Region Governor Sergey Sitnikov during the held in the regional administration briefing praised the actions of specialists of IDGC of Centre – Kostromaenergo division, who participated in the elimination of technological violations caused by bad weather.
The cyclone, which covered the Kostroma region in the period from 10 to 14 November, accompanied by freezing rain, wet snow and strong winds, caused power outages in 10 districts: Sharyinsky, Vokhomsky, Nerekhtsky, Makaryevsy, Sudislavsky, Pavinsky, Ponazyrevsky, Buisky, Volgorechensky and Krasnoselsky. The power engineers immediately began to eliminate damage to the grid. To help professionals working in the affected areas, crews from neighbouring territories were promptly sent. A total of 28 crews and more than 30 specialized vehicles were involved in the first responding and restoration work. Thanks to clear actions of the power engineers, the power supply was restored as quickly as possible for such situations.
Head of the region Sergey Sitnikov praised the professionalism and teamwork, showed by the experts of the Kostroma branch of IDGC of Center during the elimination of violations, and thanked them for their good work.