24.11.2016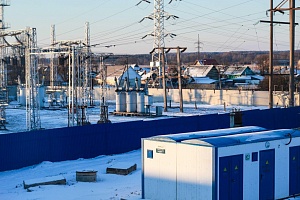 The investment program of IDGC of Centre – Smolenskenergo division for 2016 is formed in the amount of 1,264.2 million rubles. During 9 months of 2016 the volume of funds aimed at the development of electric grid facilities of the Smolensk region amounted to 1,051.2 million rubles. The main purpose of the investment program of the branch is to increase the reliability of electricity supply and execution of grid connection contracts.
Smolenskenergo fully performed the investment program plan, having used capital investments in the amount of 936.7 million rubles. Including, the branch spent 564.9 million rubles on technical re-equipment and reconstruction of power facilities and 371.7 million rubles on new construction. 281.7 km of power lines of different voltage levels and 62.5 MVA of transformer capacity were commissioned.
In the reporting period 420.3 million rubles were allocated for grid connection of residential customers and legal entities. Capital investments in the improvement of automation and communication systems were 93.6 million rubles. A significant part of the investment program of the branch is a set of measures to bring ROWs to the regulatory state. Expansion of existing ROWs of 10-110 kV overhead lines will ensure reliable power supply to consumers. During 9 months of 2016 the work in the amount of 127.6 million rubles was performed.
Among the largest investment projects of Smolenskenergo is the reconstruction of SS-110/35/10 Vyazma-1. The project includes replacement during 2016-2017 of two transformers installed at the substation, with the increase in capacity of each of them from 40,000 kVA to 63,000 kVA. This will allow to perform grid connection of a large number of new customers, as well as improve the reliability of power supply of existing consumers.