15.11.2016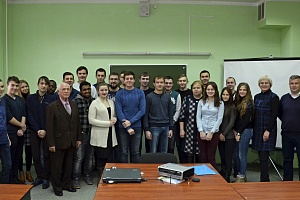 Specialists of the technical unit of the Tambov branch of IDGC of Centre and veterans of the power industry held a "round table" with students of the 4th course of the department "Electric Power Industry" of the Institute of Energy, Instrumentation and Electronics of Tambov State Technical University (TSTU). The event was held within the framework of the announced by PJSC "Rosseti" "Year of the Engineer". The power engineers together with future colleagues discussed the high social importance of the engineering profession in Russia today.
The event was opened by Chairman of the Veterans' Council of Tambovenergo Anatoly Istomin. He told the students about the major historical milestones of formation of the national electric power industry, the electrification of the major projects that were implemented by the older generation. In his opening statement to the youth Chairman of the Veterans' Council emphasized the leading role of the engineering profession in the national electric grid and wished the students to actively acquire knowledge and comprehend practical skills of the chosen specialty.
Deputy Chief Engineer for management of production assets and development of Tambovenergo Gennady Kosenkov also talked on the role of representatives of the engineering profession in the development of the company.
"We work at the company that is one of the leaders of the national electric grid complex. Currently, the Russian energy sector implements innovations, modern management techniques, replaces old equipment with new technology. So much attention is paid to the importance of vocational training, strengthening links between higher education and enterprises. In the long term, it is the young engineers, who will carry out a full-scale modernization, put into practice fundamentally new types of domestic equipment," he stressed.
The meeting took place in the live mode of communication, the students asked the power engineers a lot of questions. First of all they were interested in the prospects for professional growth at Tambovenergo and IDGC of Centre as a whole, and features of control of a modern power system. At the end of the "round table" Director of the Institute of Energy, Instrumentation and Electronics of TSTU, Doctor of Technical Sciences, Professor Tatyana Chernyshova thanked the guests for the informative conversation, noting the importance of the development of bilateral partnership between the university and the branch of Tambovenergo.
Tambovenergo and TSTU has binding long-term fruitful cooperation in the field of training, career guidance and additional professional education. So, over the last three years the higher educational institution and the company actively cooperated within the framework of the project on the organization of students' construction crews. And leaders and technical experts of Tambovenergo are mostly graduates of TSTU.