09.11.2016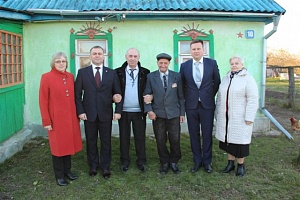 Managers and employees of IDGC of Centre – Orelenergo division congratulated Ivan A. Kireev, a veteran of the Great Patriotic War and labour, honorary worker of Mtsensky Distribution Zone on his birthday.
Acting Deputy General Director of IDGC of Centre – Orelenergo division director Yury Volchenckov, a member of the Veterans' Council Ivan Shevchenko and the trade union committee chairman Evgeny Shamrin visited the birthday person and gave him a useful gift on behalf of all his colleagues.
Ivan Kireev shared with guests memories of wartime, when in 1942, without waiting his being 18 years old, he was drafted into a machine-gun training battalion of the 137th Reserve Regiment. The young soldier rushed to the front, and was soon sent to the front, to the Orel-Kursk Bulge, where he took his first baptism of fire. The first fight was near Oboyan in the Kursk region, then it was in Poltava, Zhitomir, Berdichev, Vinnitsa, the liberation of Ukraine and Poland.
Ivan Kireev was awarded the Order of the Patriotic War of two degrees, medals "For Courage", "For Victory over Germany". The war ended for him in February 1945 over the Oder. It was only 90 kilometres to Berlin, when he got to the hospital in Kamenetz, where he met the victory.
After returning from the front, Ivan Kireev first worked as a foreman at a local farm. His first encounter with the power industry was in 1952, when in Mtsensky district, near the village of Lykovo, there was construction of a hydroelectric power station: at first he was involved in its construction, and then stayed there to work.
When big power industry came to the district and the station was closed, Ivan Kireev was employed by Mtsensky Distribution Zone of Orelenergo as an electrical lineman. He worked at the company until 1987. He was awarded the title of "Veteran of Labour" and is entered into the Book of Honour of Mtsensky Distribution Zone. "If not for diseases - the consequences of war wounds - I would have worked more," says Ivan Kireev.
The power engineers expressed appreciation to the veteran for the contribution to the Great Victory and post-war reconstruction of the regional power grid, due diligence and production activities in Orelenergo that serve the current generation of power engineers an example of courage, dedication to duty and loyalty.