03.11.2016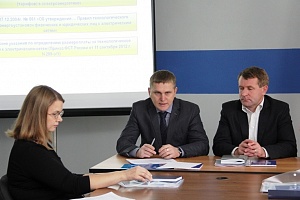 Specialists of IDGC of Centre – Bryanskenergo division held a visiting round table on issues of connection to the grid in Dyatkovsky Distribution Zone. The event was attended by representatives of small and medium businesses, as well as administrations of rural settlements, municipal enterprises of Dyatkovsky district.
The head of customer relationship management Victor Kurilenko and the head of the section for work with customers of grid connections Vasily Merkukhin told the audience about changes in legislation relating to the grid connection for the category of applicants using power installations from 15 to 150 kW (these are entrepreneurs).
The participants learned about the measures being taken by Bryanskenergo to increase the availability of grid connection for entrepreneurs. Here, as in other branches of IDGC of Centre, an additional service "Grid connection support" is provided, within which the energy company is ready to fulfill all the list of activities for grid connection, which is ordered to the applicant under the technical specifications. In addition, within the framework of increasing the availability of grid connection Bryanskenergo together with administrations of municipal formations of the region works to approve the list of planned to the building sites that require grid connection in the period of 2016-2017. At the end of the round table the organizers answered questions from the audience.
Bryanskenergo is a customer centric company, aimed at the timely provision of quality services to consumers. Thematic round tables for businessmen on grid connection issues are held at the branch office on a quarterly basis. With appropriate requests the power company is ready to organize awareness on-site meetings with representatives of small and medium-sized businesses in Distribution Zones of the region.
You may get detailed information on connection to Bryanskenergo's grids by calling the toll-free straight line of power engineers of IDGC of Centre at 8-800-50-50-115 or 13-50. Applications for grid connection are accepted in the Customer Service Centre of the branch, which is located at the address: Bryansk, Sovetskaya str., 35; and in points to work with customers, which are in every Distribution Zone. Since October 2015 customers have the opportunity to submit an electronic application for grid connection via the Internet reception on the corporate website of IDGC of Centre. To do this, please, follow the link https://www.mrsk-1.ru/customers/customer-service/bid-tp/form/ and fill in the form proposed.