27.10.2016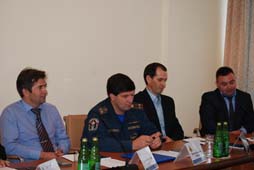 IDGC of Centre – Kurskenergo division continues regular work on the collection of accounts receivable for electricity supplied during the execution of the functions of a supplier of last resort. Since the beginning of the year the company has been able to reduce the debt level to 38 million rubles, as at 25 October 2016 it was 603.8 million rubles.
To return the debt Kurskenergo implements a set of measures of both administrative and legal nature. This work is performed by experts of the branch, including, in the framework of the working group on the minimization of consumer debt to resource supplying organizations established under the administration of the Kursk region. At the suggestion of the power company defaulters are regularly heard at meetings of specialized committees of the regional administration and district commissions for emergency situations, and then the timing and form of debt repayment schedules are set for them. Debtor are prescribed to send information about their execution to the public utilities and energy committee of the Kursk region.
With large defaulters the branch concludes an agreement on a debt restructuring procedure, which ultimately also contributes to the normalization of payments and reduction of the debt.
One of the most important directions in the work to reduce the receivables is claim-related activities of the branch. At the beginning of September 2016 in the production of vessels there were 166 cases for court proceedings at various levels worth a total of 497.008 million rubles. For a number of major non-payers, which include, inter alia, Municipality of the settlement of Magnitny in Zheleznogorsky district, "Kursk Bearing Company" LLC, "Zheleznogorsk-Moloko" LLC, "TGC" LLC courts have adjudicated a total of 9.3 million rubles in favour of the power company.
"The funds received are primarily used to solve urgent production problems associated with providing reliable electric power supply to consumers in the region," stresses the head of the office of sale of services of "Kurskenergo" Yury Kartsev. "Therefore, we intend to consistently continue the work on collecting receivables, using all mechanisms envisaged by the current legislation."