27.10.2016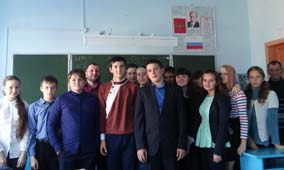 IDGC of Centre – Kurskenergo division does regular work to teach schoolchildren of the Kursk region the basics of rational use of energy resources. One of its key areas is lessons on energy saving, which the power company conducts in schools of the region. Another thematic session was held in the format of an advisory at a secondary school of Belovsky district in the Kursk region. It was attended by 38 schoolchildren at the age of 14 - 15.
Kurskenergo's experts introduced the children to the concepts of "energy saving" and "energy efficiency", told how they can save energy without giving up their comforts. For example, desks should not be placed close to radiators, not to obstruct heat coming into the room from them, and the radiators need to be closed with heat-reflecting screens. Replacement of wooden windows with plastic, as well as installation of energy-saving lamps and fixtures and use of modern metering devices help increase the level of energy saving of premises. Turning off lights and appliances, insulating premises and cleaning dust off lighting fixtures timely can significantly save on electricity costs.
The final part of the lesson was held under the developed by IDGC of Centre game scenario "Team of Energy Advocates", in which the children read themed poems, solved riddles and puzzles.
Teaching staff of the school thanked the power engineers for the interesting lesson and expressed hope for further cooperation with Kurskenergo.
"Kurskenergo's experts in an accessible form brought to the children information about caring for the energy resources. I think the children will want to put into practice the knowledge acquired. Now they will be more aware of the saving of energy resources," stressed Life Safety Teacher Boris Rudenko.
In total, since the beginning of 2016 Kurskenergo's specialists have held in the region's educational institutions 35 lessons on energy saving. Another 30 lessons are planned to be held by the end of this year.