27.10.2016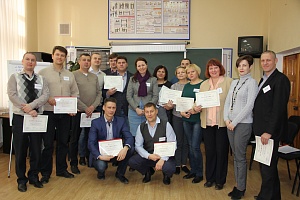 Young heads of structural units of IDGC of Centre – Bryanskenergo division participated in the training "Effective manager". The event was organized within the framework of the development of human resources of the enterprise reserve. The training was conducted by specialists of the Moscow Centre for training of business coaches and staff development "TrenerPROFY".
For two days 15 employees of the branch under the supervision of an experienced trainer were working to elaborate a system view on the management process, determination of their own management style, expansion capabilities and capacities in order to achieve maximum efficiency in the management of work of subordinate staff.
For better absorption of the material the trainers used a variety of formats: mini-lectures, role-playing and simulation games, group discussions, analysis of cases, test performance, working with specific situations from practice, exchanging.