24.10.2016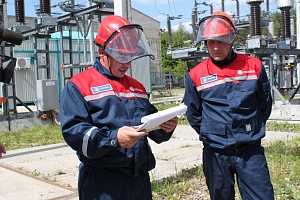 Ensuring safe and healthy working conditions in the workplace is one of the priorities of IDGC of Centre – Kostromaenergo division. As part of this activity the branch carries out comprehensive work, including periodic medical examinations of employees, training them in safe methods of work, timely provision of protective clothing and other personal protective equipment, organization of rational work and rest, normalization of sanitary and hygienic working conditions, implementation of preventive measures to avoid accidents at work, conduct inspections of workplaces within the internal technical control.
In September 2016 Kostromaenergo held the Safety Day. The commission, comprising representatives of the executive office of Kostromaenergo, verified compliance with rules and regulations on labour protection when working at overhead power lines, quality of briefings, correctness of conducting work permit and clearance system, as well as compliance with environmental safety standards. Following the results of the check 78 measures were planned aimed at improving the professional skills of staff in the field of occupational safety, technical operation of equipment, fire safety and their deadlines were set.
Safety and health days are an important component of the system to preserve the life and health of workers in the workplace. They are held in Kostromaenergo on a monthly basis, and the purpose of their holding is prevention of occupational injuries, increase the production culture. "Safety days contribute to increase of the accountability of staff for compliance with rules and regulations on occupational safety and health, technological and labour discipline, can significantly reduce the likelihood of violations, which may lead to negative effects on production," stresses Deputy Chief Engineer - head of the production safety and production control office of "Kostromaenergo" Vladimir Karpachev.