21.10.2016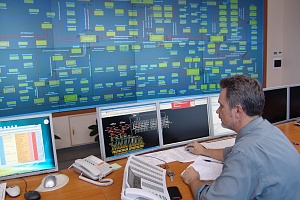 IDGC of Centre – Orelenergo division does regular work to equip 35/110 kV substations with automated systems of dispatching management "SISTEL MTC-30". The implementation of automated systems is aimed at improving the monitoring operating modes of electrical grids, preventing technological disturbances caused by voltage fluctuations and equipment overload, as well as reducing the restoration time of power supply to consumers in a situation of power failure. Using the complex "SISTEL MTC-30" allows not only to monitor in real time the operation of the power grid infrastructure, but also remotely control the operation of substation equipment.
At present, the remote control system in one way or another covers 55% of 35/110 kV substations in the Orel region. In 2016 the complex "SISTEL MTC-30" was put into operation at the substations "Kommash" and "First Warrior" in Mtsensky district. In the future the modernization of the substation "Russian Brod" in Verkhovsky district and "Kochety" in Zalegoschensky district is expected.
Until 2022 Orelenergo plans to install remote control systems at all power facilities of 35-110 kV in its service area. This will allow to better coordinate the work of substation equipment and significantly reduce the period of possible power outages.
"Remote control of power facilities is the need of time. Orelenergo uses the latest technologies to fulfill its obligations to ensure quality and reliable power supply to consumers. The implementation of software systems at electric grid infrastructure facilities in the region is one more step in that direction," stresses Acting Deputy General Director of IDGC of Centre – Orelenergo division director Yury Volchenckov.