18.10.2016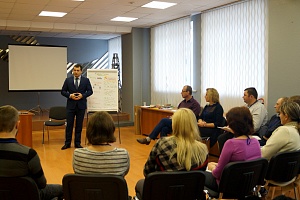 IDGC of Centre – Lipetskenergo division is holding the final stage of training staff of the customer interaction unit, which started in May this year. Its goal is to improve the quality of the customer service "Works related to the customer's competence in the implementation of the grid connection procedure" ("Grid connection support").
This service operates in all branches of IDGC of Centre and is aimed at creating favourable conditions for small and medium-sized businesses, which are the main customers of works on grid connection of electrical installations of up to 150 kW.
Under the guidance of an experienced trainer power engineers study the secrets of psychology and ethics of business communication - learn to manage conflict and resolve disputes with clients. The Company believes that the availability of such skills is a prerequisite for the successful promotion of services. To practice skills to communicate effectively the learning program provides for appropriate trainings, tests and operating cases.
"The service "Grid connection support" is designed primarily for the benefit of our customers. After all, the process of connection to electric grids is a complex procedure, which includes a set of works on documentation and connection of a facility to the mains. And within the service "Grid connection support" specialists of IDGC of Centre take upon the fulfillment of all of these works. Thus, customers receive a "turnkey" service on the full range of documentation and connection of the facility to the grid, saving their time and money," commented the head of the customer interaction of "Lipetskenergo" Sergey Bukarev.