14.10.2016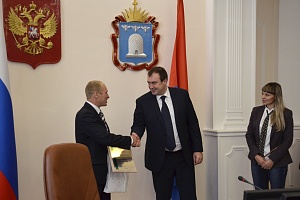 IDGC of Centre – Tambovenergo division was recognized the winner of the regional stage of the III All-Russian competition of implemented projects in the field of energy saving, energy efficiency and energy development "ENES-2016". The project "Energy Management System", presented by the branch, was the best in the nomination "Effective energy saving and energy efficiency management at an industrial enterprise".
Vice-Governor Igor Kulakov handed the diploma of the winner to the head of the energy saving and energy efficiency office of Tambovenergo Sergey Pervushin during a ceremony in the Tambov region administration. "The project of Tambovenergo is distinguished with a high degree of prepration, focus on the practical result, so it deservedly won the majority of votes of members of the competition committee," he stressed.
The power company was awarded another diploma and memorable gifts by the regional authorities for active participation in the All-Russian Festival of Energy Saving #Together brighter, in which Tambovenergo's specialists conducted a series of lessons to promote the energy saving culture in schools of the region.
The All-Russian competition ENES is carried out on the initiative of the Russian Ministry of Energy since 2014. Its goal is the accumulation of information about the best practices of energy saving technologies, both in the public sector, and in various industries, including utilities, construction, manufacturing, fuel and energy, transport, agriculture.
Tambovenergo has been engaged in energy saving issues since 2009, when the corresponding federal law was passed. For this time period the power company has performed extensive work, has accumulated considerable experience. To improve the energy efficiency process the company has created and implemented an energy management system in accordance with ISO 50001:2011, which allowed it to optimize and provide with a system management.
The winning project of Tambovenergo will become a participant of the federal stage of the competition "ENES-2016". Its effectiveness will be evaluated by the competition committee, formed of experts and representatives of branch ministries and departments. Results of the competition will be announced at the International Forum on Energy Efficiency and Energy Development ENES-2016, which will be held from 23 to 25 November 2016 in Moscow.