14.10.2016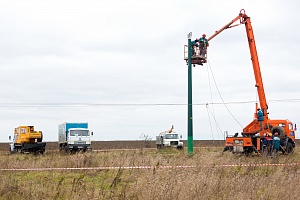 The final event in preparation of IDGC of Centre for the upcoming autumn-winter operation period of 2016/2017 was the training and demonstration emergency response exercise held on the site of the Lipetsk branch of the Company. Its results were highly appreciated by the State Commission of the Ministry of Energy of Russia.
High availability of personnel and facilities of the electric grid infrastructure of IDGC of Centre, the timely and full implementation of all preparatory activities became the basis for issuing the Certificate of Readiness of the Company for operation through autumn-winter peak loads of 2016/2017. The document was presented to General Director of the company Oleg Isaev by Chair of the Commission of the Ministry of Energy of Russia, Deputy Director of the Department of Operating Control and Management in the Electric Power Industry of the Ministry of Energy of the Russian Federation Elena Medvedeva.
The main objective of the held in the Lipetsk region exercise was practicing interaction between IDGC of Centre – Lipetskenergo division, the territorial office of EMERCOM of Russia and the executive authorities in the aftermath of massive outages in the distribution grid.
According to the "legend", a sharp deterioration in weather conditions - strong winds with gusts up to 25 m/s and more, precipitation in the form of sleet and its sticking on wires, resulted in blackout of 26 settlements with a population of about 12 thousand people.
The largest number of outages was recorded in Lebedyansky district. Additional first responding and restoration crews of the branch and vehicles were sent for restoration of power supply of its customers. In order to reduce the time of the restoration work additional forces of EMERCOM of Russia in the Lipetsk region were involved.
Thanks to the coordinated work of the power engineers and coordination of their actions with the representatives of the territorial office of EMERCOM of Russia the electricity supply to consumers of the core grid was restored in the shortest possible time.
In reality, doing practical activities, the power engineers showed not only readiness to cooperate with the responsible bodies in the region, but also fulfilled such practical skills for the elimination of consequences of technological failures, as replacement of a damaged reinforced concrete pole and connection of socially significant consumers to the backup power supply source.
During the training the organization of work of staff of Lipetskenergo, proper activities of operating and technological personnel at all levels, availability and equipment of mobile and repair teams was also evaluated. Special attention was paid to the timeliness and efficiency of public awareness through the media on the progress of the restoration work.