13.10.2016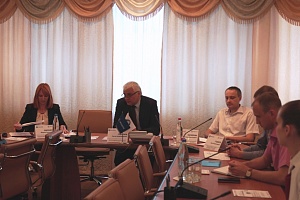 IDGC of Centre – Kurskenergo division held a "round table", which was attended by representatives of small and medium-sized businesses - legal entities and individual entrepreneurs of the Kursk region. Within the event Deputy Director for Sale and Development of Services of the branch Sergey Sevryukov told the participants about changes in the legislation relating to the grid connection, which can be useful in planning the development or creation of business. In particular, about the fact that consumers, the maximum capacity of whose power installations ranges from 15 to 150 kW inclusive, if desired, can take advantage of interest-free installment payment for grid connection.
He called attention to the benefits that entrepreneurs get referring to Kurskenergo. So, the branch in a short time carries out registration of necessary documents for the conclusion of a grid connection contract, and provides the value-added service "Grid connection support", in which the energy company performs the whole list of activities for grid connection, which is prescribed for the applicant with the technical specifications.
During the "round table" the power engineers responded to questions of the entrepreneurs. So, the head of "Manturovo Builder" LLC Victor Korovin asked what measures the company is taking to increase the availability of the grid connection service. The head of customer interaction of Kurskenergo Marina Zhilenkova explained: for the convenience of consumers a function has been introduced to make an appointment in the customer service office, as well as a year ago applicants got an opportunity to apply for grid connection and additional services through the Internet-reception on the Company's website. The power company reduced the time of the application for the grid connection from 20 to 7 days, the connection to grids of small and medium-sized businesses from 120 days to 73 days.
To learn more about the rules of connection to the grids of Kurskenergo, please, go to http://www.mrsk-1.ru, as well as contacting the Customer Service Centres of the branch, by calling the around the clock direct line of power engineers at 8-800-50-50-115 (toll free). Please, use the link https://www.mrsk-1.ru/customers/customer-service/bid-tp/form/ and fill in the suggested form for submission of electronic applications on the company's website.