06.09.2016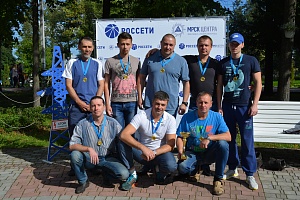 3 September within the All-Russian Festival of Energy Saving #VmesteYarche Tver hosted a team game of volleyball with participation of representatives of organizations of the fuel and energy sector, and representatives of businesses of the Tver region. The volleyball team of IDGC of Centre – Tverenergo division won confidently.
Four teams competed in Tver for the right to become the best volleyball team of the festival #VmesteYarche: The Tver branch of IDGC of Centre, Separate Division "TverAtomEnergoSbyt", MUE "Tvergorelektro" and the hypermarket Leroy Merlin. The competition went all-play-all, volleyball volleyball players of Tverenergo won in all games of the tournament.
"Tverenergo's employees enthusiastically supported the idea of holding the first festival dedicated to energy saving. Remarkably, other companies of the fuel and energy sector of the region, representatives of the business joined "Together Brighter". This suggests that the energy saving topic is relevant and close to all of us. We were glad to play on one court with colleagues and win in a fair competition," said Sergey Aksakov, the chairman of the primary trade union organization of Tverenergo.