02.09.2016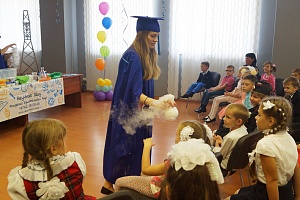 The Lipetsk branch of IDGC of Centre held a festive event dedicated to the Day of Knowledge for employees' children starting school.
For each first-grader September 1st is an exciting event, which marks the beginning of a new life. To congratulate children and wish them a successful study, the branch management decided to organize a tea party for the first-graders with games and competitions.
Upon completion of the official line-up at the school, the children went to their parents' job, where they a sweet table was already laid and entertainment was ready for them. Over a cup of tea with sweets the first-graders shared their impressions of familiarity with the school and talked about how exciting it was to hear the first school bell in their life.
"Taking the child to the first grade, parents worry not less that their child. Judging by the mood of the children, we can say that the first impression of the school developed quite favourably. Let us hope that this will continue," said the head of the business planning section of Lipetskenergo Nina Makarkina.
Congratulations to first-graders are a good tradition of the branch, initiated annually by the trade union organization of Lipetskenergo. The next opportunity to meet the children will be a Christmas tree party, which real Father Frost and the snow maiden Snegurochka promised to come to.