29.08.2016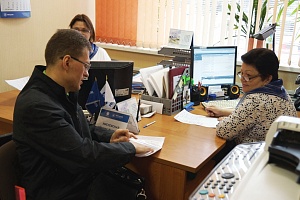 IDGC of Centre – Kurskenergo division summed up the work with customers in the first half of 2016. During the reporting period customer service offices received 13,450 requests. Most of them (11,008) were filed during personal visits to the customer service offices in Distribution Zones and Customer Service Centres (CSC). The remaining requests were received through correspondence channels of communication – the Call Centre and Internet reception of IDGC of Centre.
Traditionally, most of residents of the Kursk region call Kurskenergo for grid connection. In total for six months of this year 2,508 such requests were registered, 1,665 of them - applications for connection to the power grid of residential buildings and commercial premises. The applicants also demanded value-added services for installation and replacement of metering devices (3,804 requests), commercial power metering (968 requests), maintenance of power grid facilities (388 requests). More than a thousand customers in the first half of the year were advised on the provision of basic and value-added services by the branch.
In order to improve customer service and increase quality of services delivered specialists of the CSC of Kurskenergo constantly carry out surveys and questionnaires of customers. During the first half of the year the branch received 2,305 positive reviews of residents of the Kursk region who note the speed of request processing, attention, friendliness and high level of expertise of staff consulting them. For example, a resident of Lgov Alexander Schadnykh left such a review: "I came to the Lgovsky CSC with an application for grid connection, I express my sincere gratitude to the specialists of the CSC and employees of Lgovsky Distribution Zone for their sensitivity and qualitative processing of the application. I used the new service "Turn-key grid connection", received competent consultation and prompt customer care for the service rendered. I recommend to all my friends and colleagues."
"I applied for grid connection on 03 March - and on 11 May the address was energized. I thank Kurskenergo's employees, because the connection to the electric grids was performed promptly. Thank you for your expert help in making the applying, good organization, quality work performance," writes a resident of the village of Sergeevka in Schigrovsky district Alexander Maslov.
To get more information about the services provided by Kurskenergo, as well as to consult on any issues associated with power supply, residents of the Kursk region may call the direct line of power engineers at 8-800-50-50-115 (toll-free), the company's website at www.mrsk-1.ru, Customer Service Centres of the branch, which work in the city of Kursk (Karl Marx str., 27), the city of Lgov (Krasnaya str., 104), the city of Oboyan (Krivoshein str., 2), and in customer service offices, located in each Distribution Zone.