24.08.2016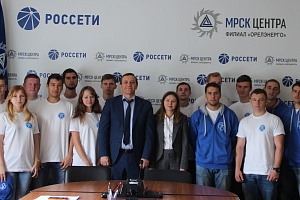 The third season of students' construction crews finished in IDGC of Centre – Orelenergo division. Over one and a half months students of power specialties of the Orel State Agrarian University and Orel State University named after Turgenev worked at power facilities of the branch as part of the crew "Networker". Having pre-vocational training, the young people under the guidance of experienced mentors participated in planned inspections of transformer substations, transmission line rounds, taking readings of electricity meters, removing forest residues when clearing ROWs along overhead lines of 0.4-10 kV.
Orelenergo's management for summing up the construction crew work held a round table, where each student shared his impressions about the profession. Many of the young people expressed a desire to work as part of the crew at facilities of "Orelenergo" in the following years as well. Then the members of the crew "Networker" visited with a guided tour the substation "West", where they got acquainted with the work of modern electrical power equipment, learned about new power grid management technologies.
"This is an invaluable experience for the students - to learn the essence of the profession not only in theory but also in practice," commented on the results of the construction crew work a student of the Orel State University named after Turgenev Roman Konstantinov.
"Under the supervision of the best specialists of Orelenergo the students got first professional skills. The experience gained will certainly help them in the future. Orelenergo will continue to cooperate with the relevant educational institutions, giving their students the opportunity in practice to get acquainted with the subtleties of their chosen profession," stressed Acting General Director of IDGC of Centre – Orelenergo division director Igor Kolubanov.