24.08.2016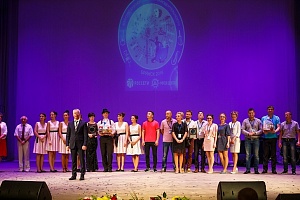 Representatives of IDGC of Centre – Orelenergo division were among the winners of the amateur artistic competition of IDGC of Centre, which took place in Bryansk. Orel power engineers demonstrated their vocal, instrumental and dance talents.
Orelenergo's team got the diploma of degree 3 in the category "Music production" with the production "Cinema Day". The prize in the special category "Voice of the Heart" was given to the chief engineer of Khotynetsky Distribution Zone Matvey Sergeev with the song "How we lived, fighting".
The jury of executives of the HR office, trade union and representatives of culture appreciated charisma of the performers, praised for their originality and high level of skills.
"For our employees to participate in the show - it is an opportunity to reveal their creativity. These activities strengthen the corporate culture and bring together colleagues, so we fully support the desire of our employees to engage in the arts in their different manifestations," stressed the head of the HR office of IDGC of Centre – Orelenergo division Irina Savelieva.